Before anyone can get started working on Amazon AMS Ads the first step involved is to either create your own Vendor account or else you can request someone to give you the access to their Vendor account. There are a bunch of things that AMS Vendors can avail. If you wish to create your own Vendor account to sell products then follow the instructions in here.
In this post I am going to focus on getting access which is more valuable for Agencies or other individuals who would end up working on different Vendor accounts. There are two ways you can get access to a vendor account
The vendor gives your email an access
You request the vendor to give you an access
In the first way of getting access the vendor who has Admin access will:
Submit the request to give your new email address access within their account.
You will recieve a notification email about access grant.
You need to click on the link. Login with your AMS account and then notify them that you've accepted
The vendor now needs to refresh their "Manage Users" screen, which will show the access level for your email.
They need to click on "edit permissions" link next to your name on their screen. They can either give you View, Editor or Admin access.
In the second way of getting access, you create an AMS account and login to your account. Under the Accounts click on "Brand Management"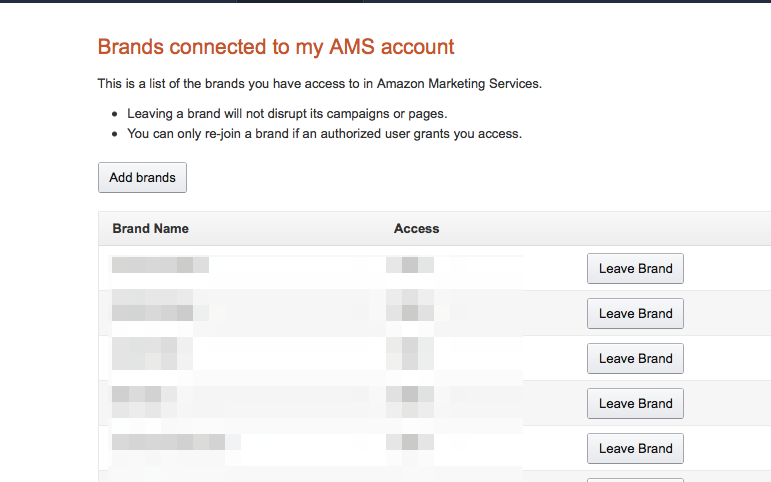 Click on "Add brands" which will show up a form as below. You would need to get all the details for "Brand Details" sections from the Admin whose vendor account you would need access to.
Once all the information is filled out an email will be sent to the Admin whose contact details are provided in the Brand Details section. Once approved by the Admin you will get a notifcation and the Vendor account will be visible in your AMS account. The access provided to your account can be:
Advertising: "admin"
Everything else: "view"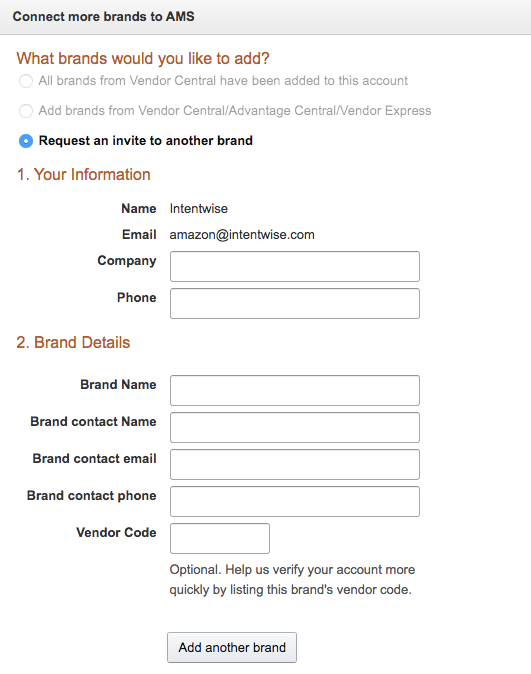 You are now all set to work on their vendor account. Depending on the access level you can either create/modify campaigns and adgroups or just view and download reports. Do share with us if you have any issues with getting access or else if you do find things that have changed since this post was written.
Here is another blog post from us which talks about a similar access view but from a vendors perspective.
At Intentwise, we provide SAAS software that helps with AMS  Reporting, AMS Analytics, and AMS recommendations based on our machine learning based recommendation engine. The Intentwise tool will help maximize your PPC returns while optimizing spend. If you are interested in trying out the tool that supports Amazon's AMS automation, schedule a Demo now!