https://intentwise.com/blog/wp-content/uploads/2017/04/ams_access.jpg
944
1400
Girish
https://intentwise.com/blog/wp-content/uploads/2021/01/intent_wise.png
Girish
2017-04-19 11:36:22
2020-08-20 17:26:22
Your guide to Amazon Advertising Account Management
Before anyone can get started working on Amazon AMS Ads, the first step is to either create your own Vendor account or to request someone to give you access to their Vendor account. If you wish to create your own Vendor account to sell products then follow the instructions here.
This post focuses on walking you through getting access.
There are two ways you can get access to a vendor account:
The vendor gives your email an access
You request the vendor to give you an access
For #1, the vendor who has Admin access will:
Submit the request to give your new email address access within their account.
You will receive a notification email about the access grant.
You need to click on the link. Log in with your AMS account and then notify them that you've accepted
The vendor now needs to refresh their "Manage Users" screen, which will show the access level for your email.
They need to click on the "edit permissions" link next to your name on their screen. They can either give you View, Editor or Admin access.
For #2, you create an AMS account and login to your account. Under the Accounts click on "Brand Management"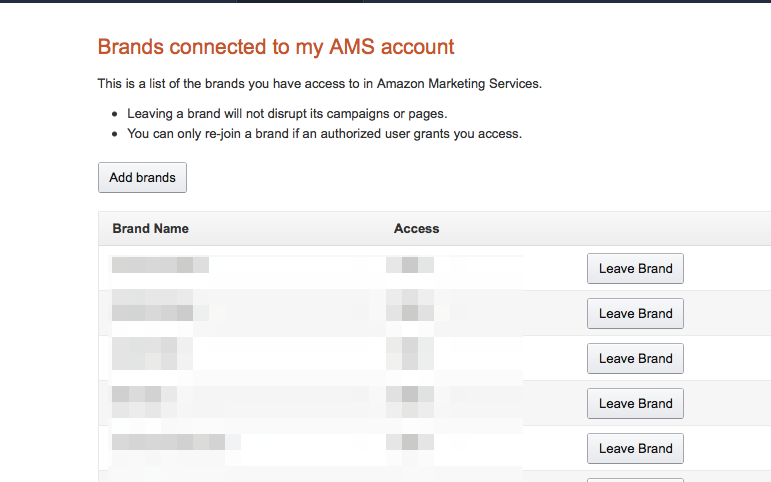 Click on "Add brands" which will show up a form as below. You would need to get all the details for "Brand Details" sections from the Admin whose vendor account you would need access to.
Once all the information is filled out, an email will be sent to the Admin whose contact details are provided in the Brand Details section. Once approved by the Admin you will get a notification and the Vendor account will be visible in your AMS account. The access provided to your account can be:
Advertising: "admin"
Everything else: "view"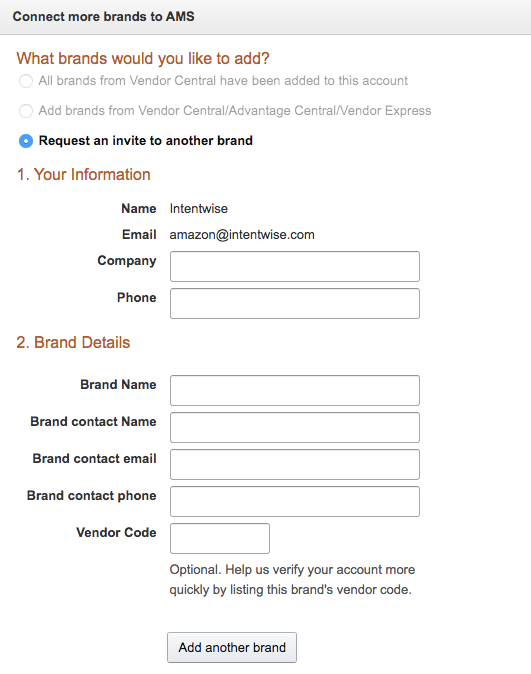 You are now all set to work on their vendor account. Depending on the access level you can either create/modify campaigns and ad groups or just view and download reports.
Here is another blog post from us which talks about a similar access view but from a vendor's perspective.
Read our post "AMS Feature Update: Promo Codes On Vendor Central" to understand the process of creating a new Promo Code.
About Intentwise:
Intentwise is a Chicago-based technology company that helps brands, sellers, and agencies maximize returns from Amazon advertising spend. Intentwise's industry-leading SaaS platform provides impactful recommendations and automation to accelerate advertising optimization while saving valuable time for advertisers.